Although the lesser beneficiary, India has never deprived Pakistan of its share of water under the Indus Waters Treaty, even when there is ample evidence to suggest that the neighbour continues to waste the precious resource. The persistent use of antiquated agricultural techniques in Pakistan has led to excessive loss of water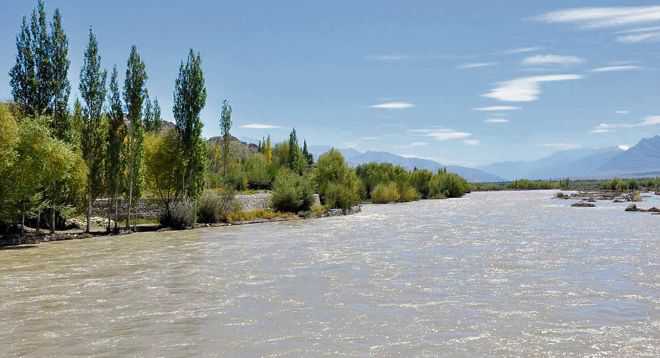 Lt Gen PK Grover (retd)
Former State Information Commissioner, Punjab
WATER is perhaps the most coveted resource in the world today. With a burgeoning world population and consistently increasing demand, it is also becoming a highly scarce resource, especially in the developing countries. Its misuse, overuse or wastage is a matter of global concern.
After Independence, the Indus Waters Treaty was negotiated at Pakistan's insistence to allay the fear of water insecurity in the lower riparian state. The treaty was signed with the World Bank as facilitator on September 19, 1960.
The spirit of the treaty, as stated in the preamble, included three essential parameters — optimum utilisation of all available water in the Indus basin; to maintain goodwill and friendship; and to cooperate in future for further exploitation — which were also to be taken into consideration while approving loans to Pakistan for replacement and developmental works.
For the past over 58 years, Pakistan has been the beneficiary of 80 per cent of the water available in the Indus basin. Pakistan had also received financial assistance in creating/developing the best canal and irrigation system in the world. This amount included £62 million paid by India.
Water is becoming an existential issue for Pakistan. As per a recent report, the United Nations has estimated that Pakistan's water supply has dropped from about 5,000 cubic metres per person in the 1950s to about 1,000 cubic metres. It is expected to fall below 700 cubic metres (international marker for water scarcity) by 2025. Pakistan is the third most water-stressed country in the world.
Pakistan has been attributing its water scarcity to Indian action of constructing hydroelectric power projects on the western rivers, a situation that would jeopardise economic growth and prove to be a health hazard for Pakistan. Broadly, the problems may be attributed to Pakistan having drawn limited benefit of India's benevolence, despite the fact that it has been receiving more than its authorised share. As per the treaty, Pakistan was to receive 136 MAF (million acre feet) of water annually, but as per a recent report it is getting about 154 MAF.
The treaty was signed with undivided Pakistan to provide requisite food security. Thus, the interests of erstwhile East Pakistan were also part of this agreement. Even though India has a separate treaty with Bangladesh, Pakistan continues to get more than its authorised share of water under fundamentally changed circumstances and with no justification for declining per capita water availability.
It can be inferred that optimal utilisation of water has been overlooked. This is most evident in the case of inefficient use of water for irrigation by Pakistan as almost 80 per cent of the water is used for low-value agricultural production. Moreover, for an irrigated agricultural area of 36 million acres, out of an average 104 MAF of river flows diverted for canal irrigation, a considerable amount of water is lost in conveyance and in its field applications. Water loss in field applications is due to lack of coordination between agriculture and irrigation departments. Incidentally, Pakistan is also permitting about 39.4 MAF of fresh water, worth approximately $25 billion, to flow into the Arabian Sea annually as it does not have enough reservoirs or dams to store water. Views regarding mismanagement of water have been expressed on the floor of Pakistan's Senate on a number of occasions.
The treaty had been worked out on the assumption of 75 per cent cropping intensity. However, Pakistan has crossed 160 per cent in 2018, resulting in utilising about 95 per cent of the available water for agriculture alone. Further, the continued use of traditional and antiquated agricultural techniques has also led to the non-judicious use and excessive loss of water. As a result, the yield per hectare of cereal crops continues to be consistently low even when the most fertile lands are available in the interfluves (doabs) of the rivers.
Another vital use of the waters is for hydroelectric power generation, but here too Pakistan has lagged in optimal and judicious utilisation. Globally, most countries generate 80 per cent of their power requirements from their installed infrastructure, but Pakistan's generation capacity only meets 65 per cent of the needs due to old plants, poor maintenance and circular debt. As per the World Energy Council Report 2016, Pakistan has an installed capacity of 6,481 MW of hydropower from all plants on the Indus, Jhelum, Chenab and Kabul rivers. The overall power deficiency of about 3,000 MW is made up by importing power from Iran, Tajikistan and Kyrgyzstan.
There is great reduction (about 33 per cent) in the storage capacity at the facilities developed at Tarbela, Mangala and Chasma for 17.79 MAF. This is primarily on account of excessive sedimentation. Pakistan has water storage capacity just for 30 days (indicating a paltry 150 cubic metres per person) against the minimum requirement of 120 days, while most of the developed countries have one-two years' water storage capability.
It is apparent that this situation is now being exploited by Pakistan by approaching various world forums. India has all along adhered to the provisions of the treaty in letter and spirit. Although the lesser beneficiary, India has never deprived Pakistan of its share of water under the treaty, even when there is ample evidence to suggest that Pakistan continues to waste it, which can be stopped by being sensitive to the need of achieving optimum level of utilising this fast-depleting resource through improved infrastructure, better management and awareness. The question remains: should Pakistan be allowed to continue wasting the Indus waters and converting a renewable resource into a non-renewable one?
Go to Source
Author: webadmin
Hits: 28