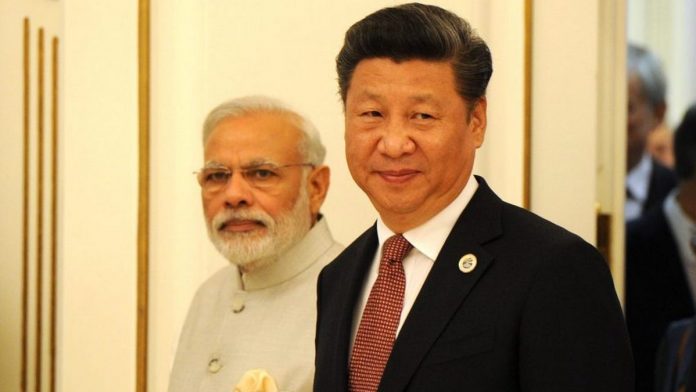 New Delhi: India has, for the second time, chosen to keep itself away from China's mega Belt and Road Initiative summit which began in Beijing Friday, despite speculation that it may not be averse to a second Wuhan-type summit between Prime Minister Narendra Modi and Chinese President Xi Jinping if the Bharatiya Janata Party (BJP) returns to power.
Pakistani Prime Minister Imran Khan, Russian President Vladimir Putin, Italian Prime Minister Giuseppe Conti, British chancellor Philip Hammond as well as heads of state and government of the 10 ASEAN nations are among 40 countries attending the Beijing summit.
Italy is the first Western nation to come on board the China-backed project which aims to connect nations and continents, promoting trade and investment. The entire cost of the project is expected to stand at around $500 billion, according to a 2017 estimate by Credit Suisse.
With India's absence at the BRI summit giving rise to speculation again, ThePrint takes a look at what the Belt and Road Initiative is, and the issues that surround it.
The BRI consists primarily of the Silk Road Economic Belt, linking China to Central and South Asia and onward to Europe, and the New Maritime Silk Road, linking China to the nations of South East Asia, the Gulf Countries, North Africa, and on to Europe, said a World Bank report.
Ever since it was formally announced in May 2017, China has signed over 170 agreements with 125 countries clinching infrastructure deals worth around $90 billion. These account for over 30 per cent of global GDP, 62 per cent of population, and 75 per cent of known energy reserves.
As many as six economic corridors are proposed to be built under the BRI framework, according to the World Bank.
It also called the BRI's ambitions enormous. The projects include mega highways, road and rail connectivity projects spanning across countries and continents.
Critics warn that easy Chinese loans may lead towards a debt trap that countries with weak institutions may find difficult to make a way out of. This could lead to ballooning trade deficits for these countries because their markets will be flooded with Chinese goods.
On Friday, Simon Rabinovitch, the Asia economics editor at The Economist, succinctly summed up the pros and cons of BRI in seven tweets.
He pointed out that China's proposed expenditure of $1 trillion (double that of earlier Credit Suisse estimates) is the same as the amount of US Treasury bonds it holds, but that the greater danger is not that it "traps" others but "itself", as it embarks upon its "sprawling" strategy.
ind
Rabinovitch also cited a Peking University study which "ranked Pakistan 93rd out of 94 recipient countries in terms of overall risks", despite which the Muslim-majority country gets more loans than any other.
Interestingly, several countries are now looking to move away from BRI two years after its launch — for one reason or another.
Turkey chose to stay away from Beijing this time citing China's treatment of Uighurs, an ethnic Muslim minority group in Xinjiang.
Bhutan, Sri Lanka, Fiji, Poland, Spain and Argentina have also chosen to not attend over debt trap concerns.
According to a recent article by Brussels-based think-tank Bruegel, the BRI is facing a backlash primarily because of the US push to create an alternate Indo-Pacific strategy through the Quadrilateral Security Dialogue (QUAD).
"The fact that the BRI is backfiring is not only demonstrated in its worsening image globally, but also by the announcement of alternative proposals both by the US, through the Indo-Pacific Strategy with Australia, India and Japan, and the European Union, in the form of its EU-Asia Connectivity Plan. The US confronts mainly the geopolitical aspects of the BRI, as it focuses on the political and military coordination among states in the Indo-Pacific region through the QUAD," it stated.
A US State Department told Reuters that US has concerns over China's "opaque financing practices, poor governance and disregard for internationally accepted norms and standards".
China is imposing a kind of "economic imperialism" on the world, the US official said earlier this month.
However, in his speech at the BRI summit inauguration in Beijing Friday, Chinese President Xi Jinping said, "China will continue to work with all parties to build connectivity network underpinned by economic corridors … We will further lower tariffs and eliminate non-tariff barriers, open the door of the Chinese market wider to welcome high quality products from all over the world."
After boycotting the May 2017 inaugural summit, which was attended by 130 countries, India has given the second summit a miss too. So far, the Modi government has remained away from the BRI citing several concerns.
India's major concern is related to the China-Pakistan Economic Corridor (CPEC) that runs through some portions of Pakistan-occupied Kashmir (PoK) in the Gilgit-Baltistan region. India believes the undivided state of Jammu & Kashmir belongs to it, that Pakistan is in illegal occupation and, therefore, the BRI challenges "Indian sovereignty" over the region.
During the 2017 G-20 summit, Prime Minister Narendra Modi had said that India and China needed to be "sensitive" to each other's strategic interests.
In its assertions, the Modi government has also made it clear that such mega projects need to follow governance norms, transparency and rule of law.
But with PM Modi travelling to Wuhan last April for a summit meeting with Jinping, it appears that both sides have reached some kind of agreement over New Delhi's absence at the BRI events.
Go to Source
Author:
Hits: 5